Finding a saddle that fits both you & your horse can be the biggest challenge in becoming a horse person!  Women need different support than men in a saddle because of the dramatic differences in our pelvis types. Let's get together to talk saddle fit!  I'd love to help!
Remember, you can have a saddle made for you…that doesn't make it custom.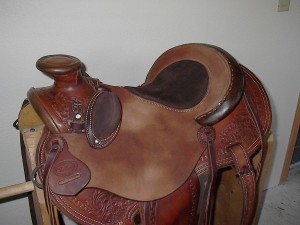 My custom made Hulbert saddle, wish it still looked that new, but the last 100 hours I've spent in it have made it even more comfortable than it was the first day I got it!  Which by the way was more comfortable than any other saddle I've ever sat in IN MY LIFE!  Please note, my saddle rack doesn't have withers & my seat looks a bit downhill in the photos, but put it on a horse & the lowest spot is right under my seat bones.
A true custom saddle is made on a custom tree to better fit you AND your horse.  A custom saddle allows you to choose more than just the leather color & tooling design you want.  You choose the weight of saddle, the quality of leather, the style & dish of the seat, the height & style of the horn, the jockey & skirting styles, etc.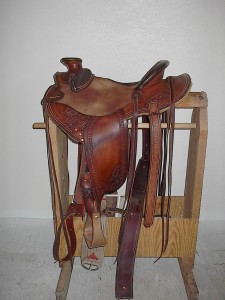 My saddle would be considered a 'Lady Wade,' I wanted a seat that would enable me to keep my pelvis straight without putting undue pressure on my hip joints, seat bones or the front of my pelvis.  It has Arizona narrow bars and Dave (Hulbert) shaved more leather away to allow my legs to drop down comfortably out of my hip joints.  It's made with 11oz leather to keep it under 30lbs.  My saddle has a ground seat, as all well-made saddles do.  A ground seat means it has layers and layers of leather on-top of the seat strainer (metal attached to the tree) that are ground away to create the correct rise & dish of the seat, this is especially important for a Wade style saddle. My seat is also inlaid for extra padding for my bony butt on those long fence rides.  Dave twisted & wrapped the stirrups for me, so they are always perpendicular to my horse, which relieves pressure from my knees.  And for finishing touches I chose a dark oil leather that looks great on my bay with a running W border & some corner tooling that Dave did beautifully!  I got bucking rolls that match my inlayed seat, which can be added after the saddle is made.  They're filled with horsehair & MUCH more comfortable to run into if/when your horse jumps or bucks unexpectedly than the swells on a swell forked saddle.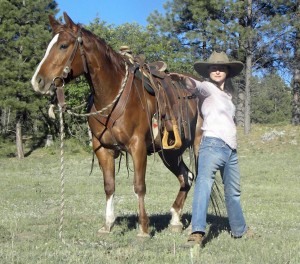 I travel throughout the state doing saddle fittings for both horse & rider.  I specialize in saddle fit to rider, and have fit many different styles of saddles for horses.  The fit of a western saddle is very VERY different than how an English saddle should fit, but there are some 'rules' that should be followed (like avoiding pinching) no matter the style of the saddle.  A saddle fit session typically lasts an hour & a half to two hours.  I am available to schedule additional time to travel to the saddle shop with you to explore additional saddles.  I own a saddle gauge & the Dennis Lane card system, if you are interested in ordering a saddle tree for a custom saddle I am happy to help you with that as well.