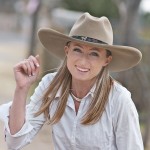 Here's a little background on me….My name is Christina, I have been a working cowgirl here in Northern New Mexico since 2004.  My handsome husband Ethan & I have managed two ranches and ALL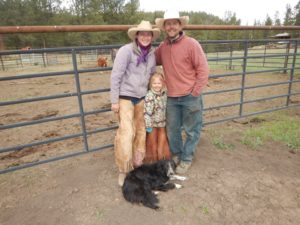 the animals that came along with them!  We had our daughter Mesa Ray in 2009, and continued to persue our western lifestyle managing the Pecos Bar X Bar Ranch as well as Black Willow Ranch in historic Watrous, NM.  Recently when we were given an amazing opportunity to move to Corrales, the horse capital of NM!!  I am SO excited to be back to teaching full-time! But back to how it started…I have been horse 'crazy' all my life, and bought my first horse with a loan from my Grandpa at age 13.  She was a beautiful dapple gray Arabian, who turned to flea-bitten gray, her name was Aza Dazzle, and she taught me so much!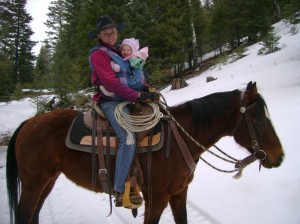 I had to sell Daz in order to pay my college tuition, but she got a great home & I got a great education!  I earned my Bachelor's Degree from Bowling Green State University in Ohio.  I attended college with the goal of becoming a Therapeutic Riding (TR) Instructor.  My degree is in Education but I majored in Recreation for Special Populations and minored in Psychology.  My major was perfect!  A small business education amplified by the entire special education curriculum.  I enjoyed my Kinesiology (study of human movement), Anatomy & Physiology classes almost as much as the Recreation curriculum.  I received my Therapeutic Riding (TR) Instructor Certification from NARHA now known as PATH International (
Professional Association of Therapeutic Horsemanship International
), in 2000, before I even graduated with my bachelor's degree!  Since college I have been a professional TR Instructor to riders with all types of special needs, and I've worked with lots of different levels of body awareness from recent amputees to able-bodied riders.  Your body awareness directly affects your balance, and this has been the focus of my studies since college. My choosing to major in Recreation has proven to be one of the best decisions of my life!  And I bring that recreation philosophy to you in our time together.  Your time with your horse should be enjoyable AND pain-free!  The ultimate goal is to be so involved in what you are learning that our time together flies by before you know it.  This loss of time acknowledgement is what we Recreation majors call being in 'flow'.  When you're in flow you are totally immersed, no more thinking about your list of things to do when you get home, or who gets what at feeding time.  Focus on the here and now!  ie: your body & your horse's body! Secondly, as a TR Instructor working with many young children and riders with limited awareness I have learned how effective positive & specific feedback can be.  This is as simple as offering a, 'I like the way you dropped your hands when you asked for the trot' instead of the usual and non-specific 'good job'.  By offering lots of positive feedback that is specific, you know what your doing correctly and your aware of when you do it.
Pictures from the last Ray Hunt clinic I was able to attend November 2007 in Arizona, Zephyr & I learned SO much!
In 2013 I was certified as a Centered Riding Instructor and have since upgraded to Level II Instructor.  I've been working with Lucile Bump (Level IV Centered Riding Clinician & Instructor) for a couple years now & hosting her in New Mexico for clinics.  I'm always working toward improving my own horsemanship as well as continuing to learn.  If you're still curious how fun I can really be…come audit one of my evaluations!  Just e-mail me for times & places!  OR jump in & sign-up for a Cowgirl Yoga weekend here at the ranch!  You'll have a great time, I promise!
My cowgirl riding style, Buckaroo Balance, will allow you to ride for life!
So you can enjoy the ride!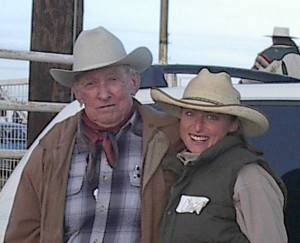 Me & My hero, Mr. Ray Hunt
Mr. Hunt told me, "Just keep smiling & you'll get it figured out."
This is my double registered Foundation AQHA mare, Otoe's Bluejack Magic aka Tiki, This was her first day in the traditional two-rein.  Looking forward to bringing her through the traditional bridle-horse training!