Hey there!  It's been a busy summer here on the ranch!  I can't believe it's fall already!!  Cooler mornings & the elk are bugling, my favorite time of year & that's not just because September is my birthday month!  Still, this year I got the birthday present of my DREAMS!  A new horse!!  Her registered name is Otoes Bluejack Magic, but we call her Tiki.  She is a two year old blue roan (as close to my favorite color purple as a horse will naturally come!)  I am absolutely smitten!  & SO excited to start her myself so we can build the partnership I've been dreaming of!
**c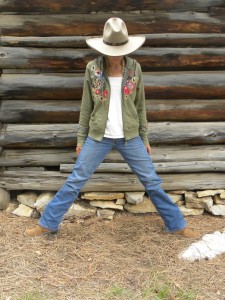 heck facebook for a special September gift for you!  A 20% discount to my 2012 retreats IF booked in September!**
Also this month my article for Dirt Road Daughter's Magazine about integrating yoga into your riding is coming out!!  With some very cool pictures & info if I do say so myself!  AND I just did a radio show on The Stable Scoop on the same topic!  You can listen for FREE or download the show to your ipod to listen to later here or at:
http://stablescoop.horseradionetwork.com/2011/09/16/stable-scoop-episode-161-turtle-yoga-and-i-hung-up-my-bridle-today/
I'm gearing up to head back east for back to back clinics in Granville, NY at Harmony Hill Board & Bale and then Rochester, MA at Heart's Desire Stables, both clinics have a couple spots left (more info on my schedule page)…hope to see you there!
Happy Trails!
PS let me know if you enjoy listening to this radio show, I recently bought a voice recorder that hooks to my computer & I would LOVE to make it a regular download for you here on my blog…if you'll listen 🙂