Building confidence around horses is an on-going challenge for many of us.  Figuring out where your fears steam from is key to conquering them (see Circle of Trust blog). Is your seat not as deep & secure as you would like it to be? (who wouldn't want to improve that right!??) Are you quick to react or over-react? (I'm a bit jumpy myself) Is there a specific location you had a bad experience & now similar situations make your stomach do summer-salts? (my best friend calls the round pen the circle of death) Is it one particular horse that you just can't trust after a negative experience? Do you stop breathing? Does your ground work NOT mirror your mounted work, in other words you've got it together on the ground but when you mount up everything changes? You're not alone!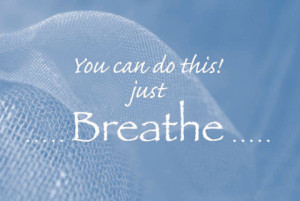 Most of us have more than one of these issues (and more) that just keeps popping up, so here's a simple one that we can all benefit from: BREATHE, we KNOW we're supposed to do it….sounds so simple…seems it should be innate, lol but it's not. Practice roll breathing, take deep breaths & fill your torso from the bottom all the way to the top, feel your shoulders expand. Exhale slowly & softly. Repeat, more slowly, repeat again & feel your spine lengthen..and repeat it yet again. Does your torso feel softer? More flexible? Have you found your happy place?
Here's another simple one I call the Wiggle Check, start at your toes. Can you wiggle them? Are they loose or tight little knots? Move up toward your ankles, knees, hips through each joint spending extra time in your back on each vertebrae of your spine (because humans tend to hold a lot of tension there!), spend extra time in your shoulders, another high stress area 🙂 The more your joints allow motion the more easily your body can take impact whether it be from the steps of 4 hooves below you or an unexpected hop, skip or jump. Plus, aren't you feeling more relaxed now?
Relaxing helps us to lower our center of gravity, to go with the horse if/when they move quickly or abruptly, helps us to not over-react…when are you most relaxed? On Vacation of course!! 😀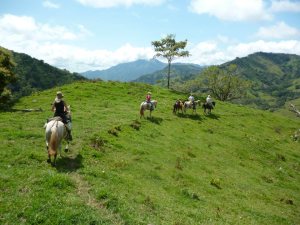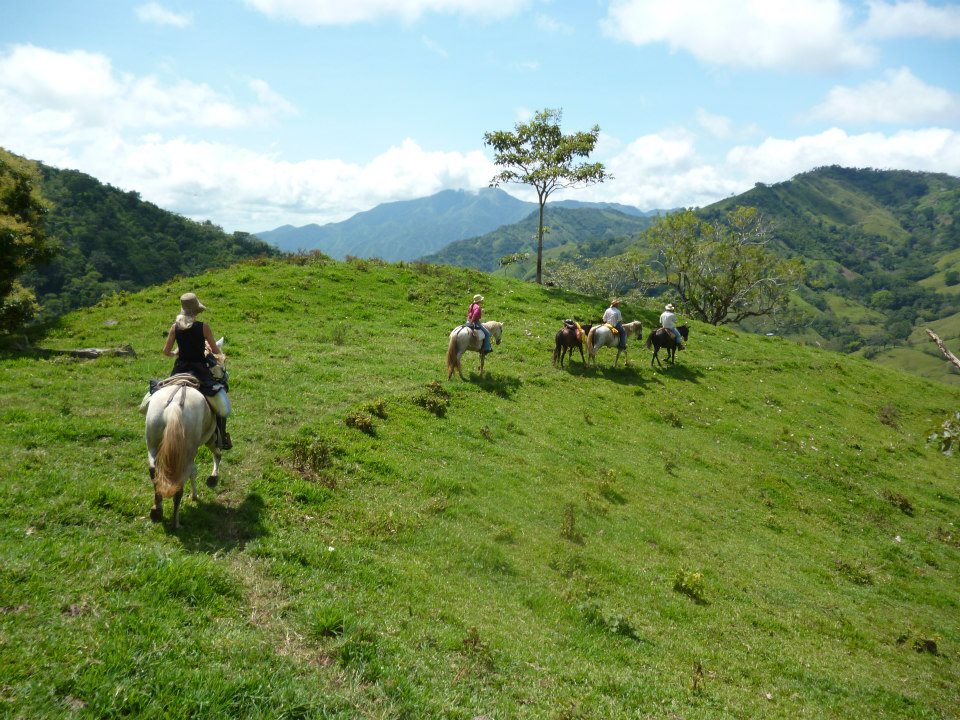 So here's my next piece of advice, go on vacation!! Preferably to a warm place in the late winter so you get out of the cold, you don't miss riding time with your own horse, and so you can return confident in the early spring when horses are fresh & you need that confidence the most! I have chosen Barking Horse Farm in Costa Rica! I fly out February 25, 2015 & I can't wait!! Although I'll be teaching instead of vacationing it's completely a dream trip for me! I am bringing along my good friend & yoga instructor Christell Thomas to teach us yoga & body awareness every day. There will be mounted body-work from both Christell & myself, and lots of guided riding to encourage relaxation, body awareness & confidence building. The BEST part of the trip are Elizabeth's horses at Barking Horse Farms, they have been trained in natural horsemanship (Parelli games & all)…these are not dull dude horses who only follow one another, they are responsive, confident equines ready to help you get to your next level in confidence!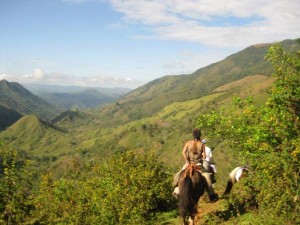 So join me in kicking off your new year in Costa Rica with a confidence booster!  Buckaroo Balance is going to Barking Horse Farm the last weekend in Feb 2015!  It will be 4 days of amazing sights with genuine people & beautiful horses focused on building your body awareness & horsemanship.  We will start each day with yoga focusing on areas of the body we over-use as riders, bringing softness & calm to ourselves before an amazing fresh breakfast & then trail riding to different locals each day.  The prie is $1,250 & includes everything but your airfare. More information can be found at www.BuckarooBalance.com As of today…there are only 2 spots for 2015 available!  I will start booking for 2016 in the spring (look-out I plan to offer another 4-day like this year AND a 9-day trek down to the ocean to ride in the waves!)